WATERCOLOURS WITH ANNE MCMINN (Photos by Anne McMinn)
Anne is convenor for twoWatercolour groups – beginners and improvers.
FRENCH GROUP  (Report supplied by Helen Rawlings)


Two of our members have recently returned from holiday in France. Both felt that the practice in speaking and listening had given them much more confidence and success when using the French language. The rest of us can hardly wait to have a go.
In true U3A fashion, members have been taking turns at contributing to the group's activity. We have enjoyed talks on various aspects of French life and culture; so far we have heard about Provence, Dreyfus, Marie-Antoinette,Bordeaux, Facts and figure about France, Quebec and De Gaulle and British-French relations at the outbreak of World War I.
MIKE'S BIKER (Photos by Mike Taggart)
This week Mike's Bikers toured Islandmagee despite the rain.  A good time was had by all!
JUST WALKING IN THE RAIN, GETTING SOAKING WET!
Do you think we would let a little rain spoil a good walk?  Not a chance!  We thoroughly enjoyed our walk and even took time out for a 'selfie'.   Why not join us next Monday come rain or shine?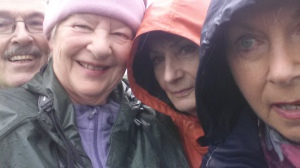 A MORNING ON THE HILL (Photos by Heather Ellis)
A group of 14 members of Upper Bann U3A visited the ancient city of Armagh.  The trip started with members enjoying coffee and scone at a Vicar's Hill restaurant before the first of three guided tours.   The Cathedral Stewart met us at the doors of St Patrick's Church of Ireland Cathedral.  He told us the story of Armagh Cathedral  which begins in the year 445.  The various stone carvings inside the Cathedral, along with displays and artifacts were explained.  The tour ended with a visit to the crypt.  We would like to thank our guide for his time and patience.
The second visit was to No 5 Vicars Hill.  Built in 1772 as the Diocesan Registry to hold records for the Cathedral and Armagh Diocese, its octagonal rooms contained many public as well as Church records. There are several displays of coins, cameos and important prints.  This very small building proved to be fascinating.  We would like to thank Stephen our guide.
Our third and final visit was to Armagh Public Library, one of the oldest libraries in Ireland, having been established in 1771 by Archbishop Robinson.  This part of the visit was led by the Assistant Keeper who welcomed us warmly.  She explained the origins  and structure of the library.  In preparation for our visit she had identified a number of very old books relating to the Upper Bann area.  The Dean of the library, who is also the Keeper, called in to welcome us.  Thank you Heather for organising what proved to be a most enjoyable trip.
 A WALK ON A BEAUTIFUL NOVEMBER MORN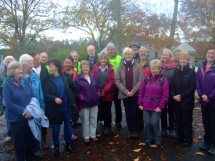 LIVE, LAUGH AND LEARN!  THANKS TO MAUREEN WE CERTAINLY DID   (Photos by Tom Young)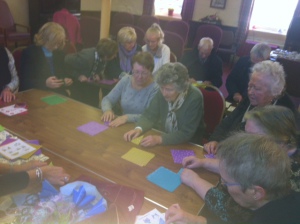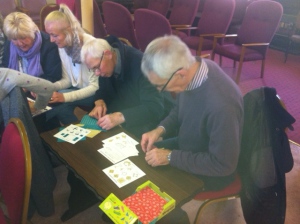 Maureen Carroll, a member of Upper Bann U3A introduced colleagues to the art of origami.  It was a fun afternoon  and it is hoped to run a workshop next year.
NATURE GROUP GOES BIRDING IN BELFAST! (Photos and report by Pat Flowerday)
It was a wonderful afternoon. Arriving at the Albert Bridge just as the first small group of starlings appeared, we watched as small group after small group joined together until one huge flock was wheeling all around and over us. At one point, a few thousand landed on a building (bottom right of photo), completely covering it before flying off again to join the main flock. Gradually sub groups tumbled from the sky, skimming the water and disappearing under and to either side of the bridge until finally all had found a niche for the night. There followed much noisy chattering, clearly heard above the rush-hour traffic. What are they saying? Move over, you're in my space? Where did you go today? Was the food good? We'll never know.
The whole wonderful spectacle lasted around half an hour. The rain stayed away, it wasn't really cold and the train took the strain.
MIKE'S BIKERS – CYCLING POLITICIANS OF THE FUTURE?


(Report supplied by Heather Crawford, photographs by Mike Taggart)
Even the intrepid cyclists paid heed to the amber monsoon warnings two weeks ago and not wishing to shrink our lycra, the 'away' trip was postponed. However, Tuesday 11th dawned bright and sunny as we took over the bicycle carriages on the slow train to Belfast….at least it allowed (me for BeSy to eat her packed lunch before we arrived. Having learnt from biSer experience that bikes and escalators don't mix, we were 'li?ed' up from Central sta(on to tackle the cycle paths of Belfast. Through the Holywood Arches we arrived at the Comber Greenway, a most impressive stretch of disused railway line inhabited by walkers, dogs and cyclists.
Just as we were hiVng top gear we veered off the Greenway towards Stormont and, to show that we weren't 'over the hill' we tackled the mile long stretch UPHILL to the Big House. This did cause rather fran(c changing down to the lowest gears but all eight of us made it, to collapse rather breathlessly at Lord Carson's feet (see photo). A?er a welcome coffee break but before we could relax too much, Mike led us along the Belmont road and the long climb up Glenmachen followed by a fast freewheel into Holywood. A picnic by the sea in the sun is a joy but to be able to enjoy that in mid November in Northern Ireland is a near miracle.
Well refreshed, the route back to Belfast took us along the Lough, past City airport with a detour through the lovely Victoria Park, pedalling hurriedly around the lake where the murder weapon from The Fall was found. Up close and personal with Samson or was it Goliath, arriving at Titanic sta(on just as our train was pulling in. Perfect (ming and a perfect day on the saddle….thanks Mike.
UPPER BANN GENEALOGY GROUP JOINED WITH ARMAGH GROUP ON A VISIT TO PRONI   (Report provided by Geraldine McIvor)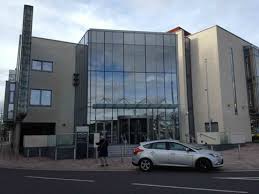 The Upper Bann Genealogy Group joined up with members of Armagh U3A to take a guided visit to PRONI in its Titanic Quarter premises, having moved there from Balmoral Avenue in 2010. Dr Desmond McCabe, Historian, Curator and Author, gave an interesting and enthusiastic overview of the records accessible at PRONI, as well as tailoring his introduction to the needs of the group. Besides picking up on Dr McCabe's passion for local history, most people made significant progress on their own family history journey – and look forward to a trip to the National Library Ireland in Dublin in the near future.